Today has been a very
looooong
day! I had mentioned earlier that I tried out for the design team over at
www.scrap-room.com
, while the new
DT
members were to be
announced
7/31/09. Because of busy schedules, they had to postpone the
announcement
until this evening. All day, I have been lurking the boards wondering who the lucky winners are. I really hope I am one of the three chosen. I know there are
a lot
of talented ladies over there and my chances are slim, but I can still hope:)
Yesterday marked the beginning of my Diva reign for the month of August at the
scraproom
as well. I posted a fun mini album challenge, and also a card a day challenge. I have some other ideas up my sleeve for the month as well. You should come visit and play along, I have been doing lots of shopping for some great prizes. I can't wait to see all the great creations everyone will come up with.
While amongst my waiting and lurking today, I did manage to complete this 2 page LO. I am also on the design team for the
LSS
in
Ludingon
called The Scrapbook Nook. Vanessa is super nice and always has something new
every time
I visit her store. This months kit she put together was divine. I love the papers from the Mommy and me line by
Prima
, there was also this great little mini stamp kit. I hadn't seen them before and will be on the lookout for more. I hope she likes my page when I take it in tomorrow.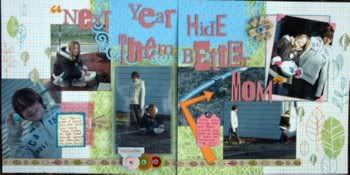 On a non scrappy note, the annual cousins family reunion yesterday was a great time once again. The weather was terrible though. It was cold, windy, and rainy, which really put a damper on things. We were not able to play all the games that make the family reunion so much fun. We did luck out, and were able to go in the pavilion long enough to eat and let the rain pass. Of course Max held his crazy auction in efforts to raise money for next year. Everyone brought some great white elephant gifts. Zane must have been feeling generous, because he even bought 2. He got a bag full of new T - Shirts, which he will wear proudly and a awesome candle holder which has already found a home in my
scraproom
. Emily even made a few dollars on the questions Max was asking. If your answer was correct, he gave you $1-$5... She has enough to go swimming at the Comfort Inn, so looks like that is what we will be doing tomorrow. Tyler wasn't able to go this year because he had a family reunion with Rick to go to. I hope he had a great time, he should be home shortly.
Well off to lurk at the
scraproom
some more. It's been a good 30 minutes since I last checked.
LOL
!