I finally had some time to create something last night. It seems lately I have had a hard time squeezing in some creativity. It felt so good to sit down with a cup of coffee and let the juices flow, even if it was 11 at night!
This page started out as a simple page, and well anyone that knows me knows simple is not my style! 4 hrs later this is what I ended up with.....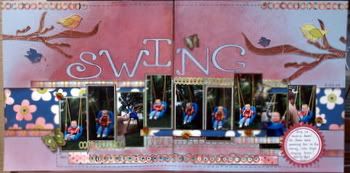 After I had the page all done, it was missing something. I have had this bottle of glimmer mist that I had bought on clearance for over a year and never tried it. I like the concept, although next time if I am going to use it on the
cardstock
base, it needs to be done prior to gluing everything else down. I ended up with much more "mist" then I would have liked because I kept trying to even it out. I used letters cut from
Cricut
tear drop cartridge as a mask, then took them off after I sprayed the glimmer mist. I have never done this and will do it again, love the effect of the base
cardstock
showing through.
Papers are from
Luxe
design Ecology line, love this line! Thanks Vanessa at the scrapbook nook for ordering it in!
Now, the creativity is flowing again, and am scrambling to get this house clean so I can play in the
scraproom
again
tonite!