I have been thinking of ways to "wrap" gathering booking incentive gifts. After much thought, I remembered the cute little houses on the Winter Wonderland
Cricut
cartridge. I knew they would be perfect! A "house" for a home gathering. I have 2 done so far. I love them!!!! So cute! They are going to have special gifts in them for the wonderful hostesses who invite me and a few friends over for a
CTMH
gathering.
Emily and I are going to make a Christmas village for our dining room table. We are really looking forward to starting the project. I love that Emily likes to work on paper crafting projects with me. This is really great bonding time for the two of us.
I used the Around The block stamp set for the bricks and window boxes. The windows on the brown house are also stamped with a window stamp that is in the set.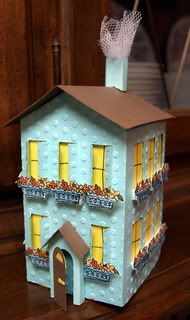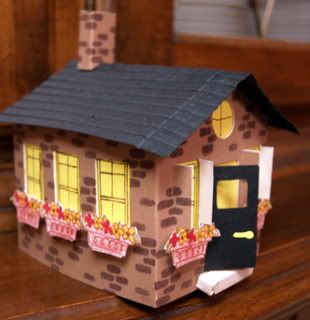 When I went to the Scrapbook Nook in
Ludington
on Saturday, Vanessa had a new paper line for me to work with. I love the colors for boys and winter! This is the page I did of Tyler, still need to do a winter one this weekend. Going to spend the day scrapping Saturday in her store, so that is on the to do list.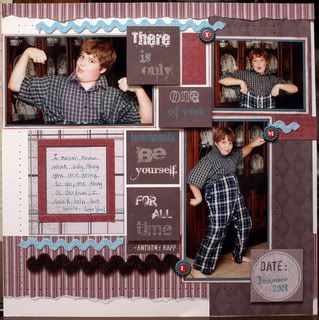 Tyler is always making me laugh with his facial expressions and goofy things he does. I love it when I come home from work feeling cranky, and he turns my frown upside down.
I wanted to share a little organization this week. This is something I had done a couple months ago. I stapled a swatch of
CTMH
cardstock
for each ink color to sponge wedges. This forms a little handle. I then put a little piece of
Velcro
on the back of each handle, and put some strips of
Velcro
on the empty side of the ink pad tower. This is the perfect place to stick all the ink sponges. I now have a
sponge
for each of the 60 colors, easy to reach and find. Never have to worry about having the correct sponge for the correct ink and will not have to rummage through a basket of sponges to find the right one. When a sponge wears out, just make a new one and stick it on. LOVE it!