A lot going on in my
scrapbooking
world right now. I have been working on goal setting. I have been setting goals for years with my scrapbooks. For example.... By the end of the month I want to have 30 pages completed. Often I fail these attempts because the goals I put upon myself far exceed the hours in the day. As I have been working on setting "obtainable" goals, a friend happened to tell me "work smarter, not harder". Suddenly, it all made sense. Do I really need to put all the planning into every page? Do all the pictures need to be scrapped? With this theory in mind. I went through a stack of pictures and picked out the ones that I knew I wanted to scrap. The ones that had a story that I want my kids to remember. I went back to the basics of why I started
scrapbooking
........to document the memories we create.
Now, I have a stack a small stack of pictures that are on the top of my to do list because they hold a special memory for me. Something I want Tyler and Emily to remember. This small stack seems much more "obtainable" than the 4000 pictures in photo boxes and the countless pictures on my computer. I know there is no way I will ever catch up and that is fine with me. Every page I create is one more memory in the albums that was not there yesterday.
Within my small stack of pictures were 2 pictures of Tyler with his PS3 that he bought the day after Christmas last year. The pictures are not the best, because Emily took them in the backseat of the car with the new camera she bought that day as well. I wanted to scrapbook these pictures because it was a crazy night for us. Tyler had saved his money for a month leading up to Christmas in hopes that he would get enough cash and gift cards for Christmas to purchase a PS3. He told everyone who asked that was all he wanted. He made it, all $371 dollars of it. He was so proud carrying his wallet full of money into
Wal
-Mart the day after Christmas, only to find out they were sold out. We had to go to 4 different stores to finally find one. I kept trying to reassure him we would find one, even if we had to wait for a few days. Luckily, we did find one. He was even prouder as he payed for it and carried it out of the store. This was his first "big" purchase.
Emily bought a camera with the money she had gotten for Christmas. The entire car ride home, she tried to figure out her camera, while he read his PS3 box. Tyler was her test subject. These were her pictures from the night.
I received the
CTMH
Mistletoe paper in the mail a few days ago, and knew these pictures from my little stack of pictures would be the next "memory" in the album.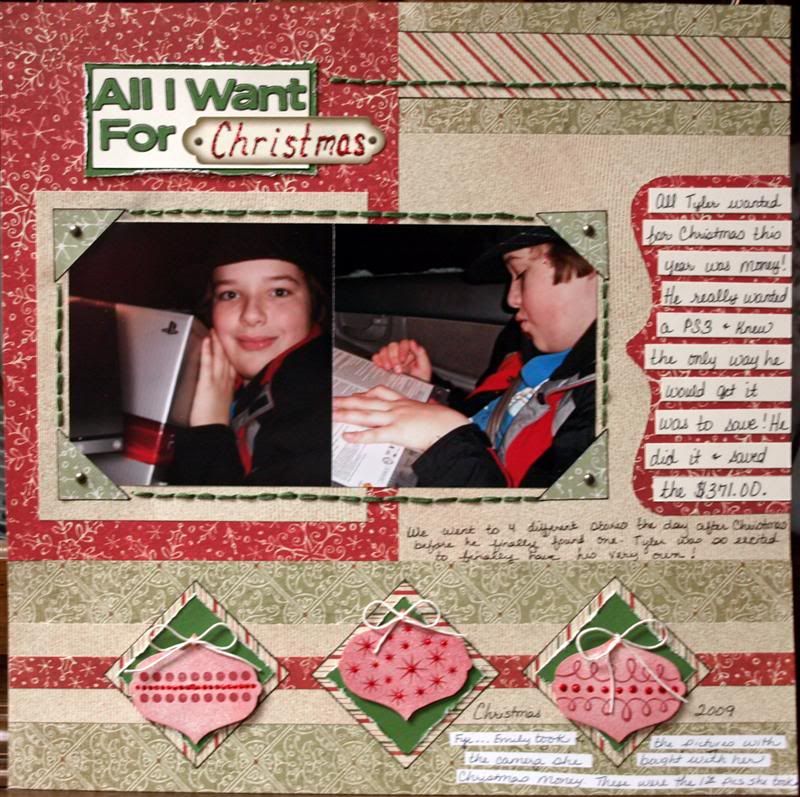 I used the
CTMH
stamp set Holiday Trinkets (D1366) to stamp the ornaments and the pattern is the Column Composition layout in the Cherish idea book.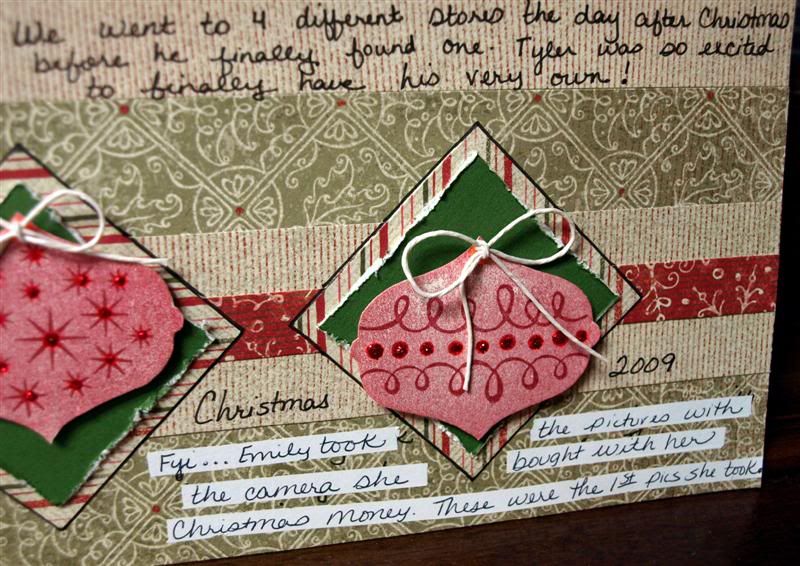 Along my journey as a
scrapbooker
, I have learned a lot of tricks to make things easier. One of my all time favorite things to do is outline. You can see above how I outlined the squares with a
CTMH
black legacy writer. This little step adds just a little dimension and helps to separate the layers of pattern paper. It is quick and simple. I also outlined the letters in the title for a little added pop. I outline something in nearly every page I do.
I also messed up on the
journaling
, which as Zane would tell you, I do this on nearly every page as well. Something is usually spelled wrong, or I forgot a word. I use to fret over it, now I just put a strip of white out, rewrite what I wanted to say and call it good. It really does not have to be perfect. I am not perfect, so pages don't have to be either.......
I have started a monthly
CTMH
newsletter, if you are interested in being added to my email list send me your email at angiehighland@myctmh.com
As always, my website to purchase
CTMH
products : www.angiehighland.myctmh.com