So Heather came over last night to play with her new CTMH products. I find her so inspiring, her style is totally different then mine. Love it! We were not very productive because we couldn't stop talking...... She totally surprised me with this awesome bag of goodies
I love how she alters things into something fantastic. Inside the bag was some items she has made. I can't wait to play with the tea stained fabric she gave me. She did some stamping on some last night and it is so vintage. Very fun!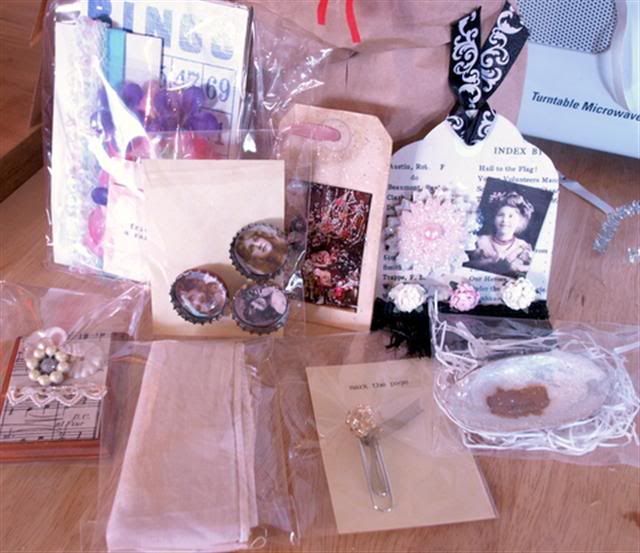 We did work on these adorable little bags Heather had made. She had folded and stitched the little paper card bags to form a envelope. I didn't make much progress on mine, so I finished it up some more today.
Used allot of different products on here. I think it ended up a little busy, but that's me.... just keep going and going until there is no more space left to cover :) The presents / quote are from the CTMH October stamp of the month, the Santa is from the Happy Christmas set. The borders are from the Boutique Borders set. I used lots of stickles, chalk, and bling to color everything in. I forgot how much fun it is using chalk on stamped images.
The kids and I are heading to Cadillac today to visit the family. My little sister Connie is going to Asia for 3 months, so she is having a little going away party. Going to play some Texas Hold Em' Maybe I will win some cash, so I can buy some new scrappy goodies.
On our way, we need to look for a dress for Emily. The father daughter dance is coming up soon. I am so sad this is the last year she can go... It is such a special time for Zane and Emily to hang out together. I think Emily and her friends do all the dancing though, while Zane and the Dads hang out at the food table. LOL!
Yesterday was a great day for Emily at school. She received 2 awards..... 1 for High Honor Roll which means all A's and 1 for Top Student in the class. I am so proud of her and she is so proud of herself, which is awesome!
Well off for our eventful day!